This article applies to BOOST EMPOWER licenses
Purpose of the article
Authentication on Microsoft Sharepoint Online and Microsoft Exchange Online tools requires the use of the OAuth protocol. This protocol requires a registration of the Cooperlink application on Azure Active Directoy.
This article explains how to connect Cooperlink with your Office 365/Azure AD environment
Step 0: Elements to prepare
Step 1: Initialize the connection with an administrator
Step 2: Verify that the application is registered in your Azure environment
Step 3: User rights management
0. Elements to prepare
To enable Cooperlink to connect to your Office365 environment, please prepare:
A system user with a license associated (the Business Basics license is sufficient)
If company policy requires the use of MFA, please contact Cooperlink Support to assign an administrator
Ensure the system user has appropriate access to the site and SharePoint libraries to which you want to connect Cooperlink
Schedule a meeting between Cooperlink's support team and an O365/Azure administrator in your organization
Note that the administrator must also have access to the site and the libraries concerned.
1. Initialization of the connection by an administrator
During the meeting between cooperlink's support team and your administrator, the administrator will initiate a first connection from Cooperllink to Office365. From this moment a registration of the Cooperlink Cloud application will be made automatically.
2a. Verifying cloud app registration
Registration is required to enable your Office 365 environment to recognize Cooperlink as a trusted application.
When an administrator has initiated a first sign-in attempt on your tenant, the Cooperlink Cloud app automatically adds to the application records in your Azure environment. Depending on the rights defined, it is likely that an administrator will have to give consent.
Go to https://portal.azure.com and access your directory
Then go to the module App registrations
Find the Cooperlink Cloud app
Check the Permissions APIs
Grant your consent as an administrator by clicking Grant admin consent in the API permissions section and follow the instructions

2. Application rights management
Use this step to define which users can use Cooperlink in connection with their Office 365 account.
Go to the section Enterprise Applications to configure Cooperlink rights.

Select from the list the application Cooperlink (or the name you chose when registering)
Click the Users and groups menu. Add allowed users and/or groups.

Alternatively, it is possible to remove the mandatory assignment of users.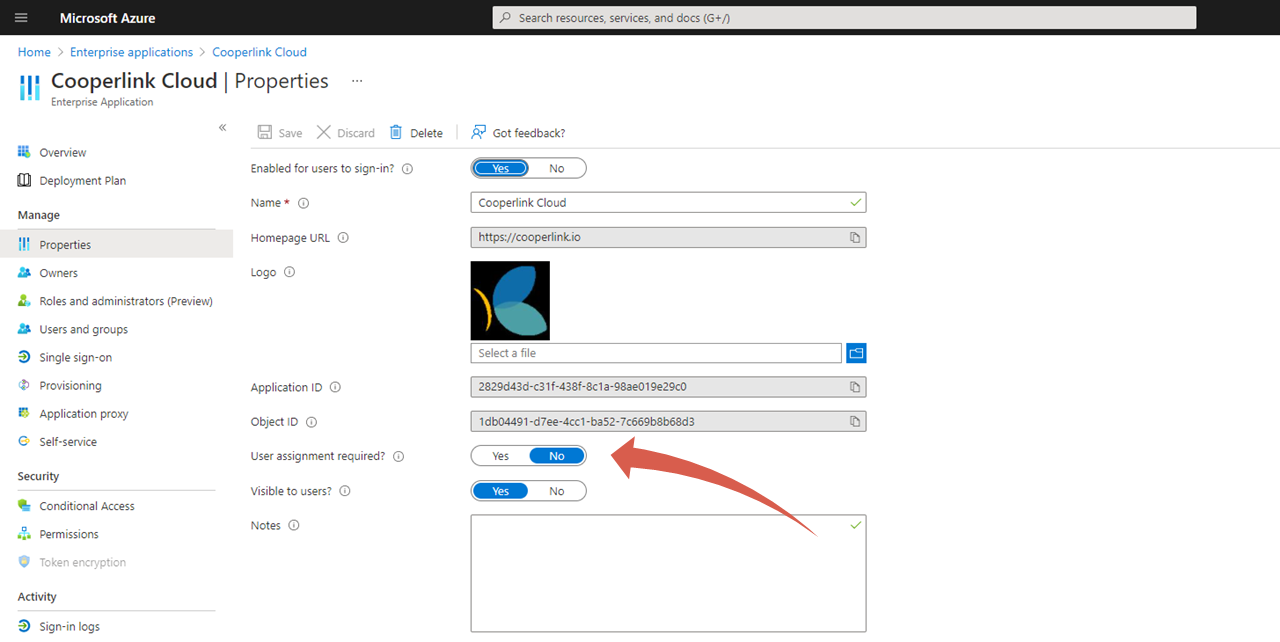 4. Grant the administrator's consent
From the left menu, select Permissions and then click the Grant Administrator Consent button.