Correspondance management
---
This article applies to BOOST EMPOWER GUEST (free) products
Collaborative email and project correspondence
The digital user experience has changed a lot in recent years. The volume of e-mails exchanged has increased considerably and their processing is a particularly individual and time-consuming operation. This entails several risks, for example:
The request is not processed
Information does not arrive at the correct recipient
The exchange is not archived. It loses its status as an exhibit in the event of a dispute.
...
To address these issues, Cooperlink has developed a correspondence management module integrated into your email server and using collective intelligence. Cooperlink turns an individual email into a collaborative resource within the project team.
By identifying (tag) an email on a given space [1], Cooperlink takes care of its archiving. But better than that, all recipients of the email will be able to directly observe that it has already been archived or processed.
The collaboration doesn't stop there. The user can also assign a status (lifecycle) [2] to this email, assign a task to a colleague [3] or write a comment [4].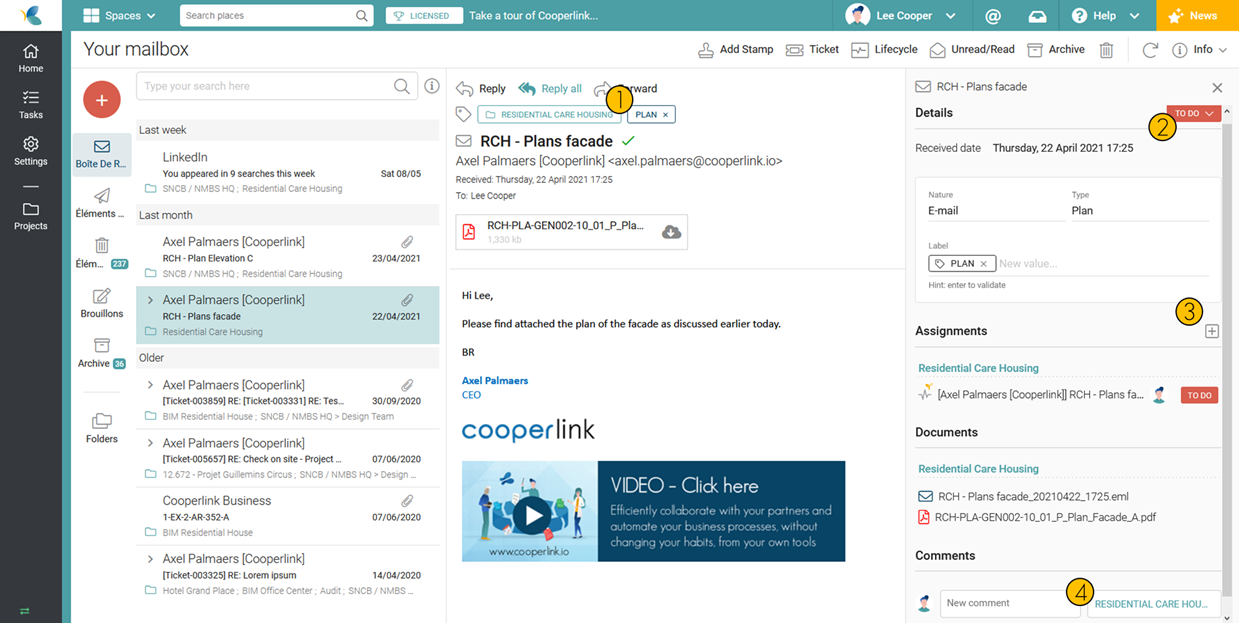 Microsoft Outlook Add-in
Prefer to continue using your usual email management tool? Cooperlink offers a plugin that gives you the same features directly from Outlook.
Cooperlink also adds a category to your email and completes it with the project name directly in Outlook. So you can directly easily search for the backed up emails.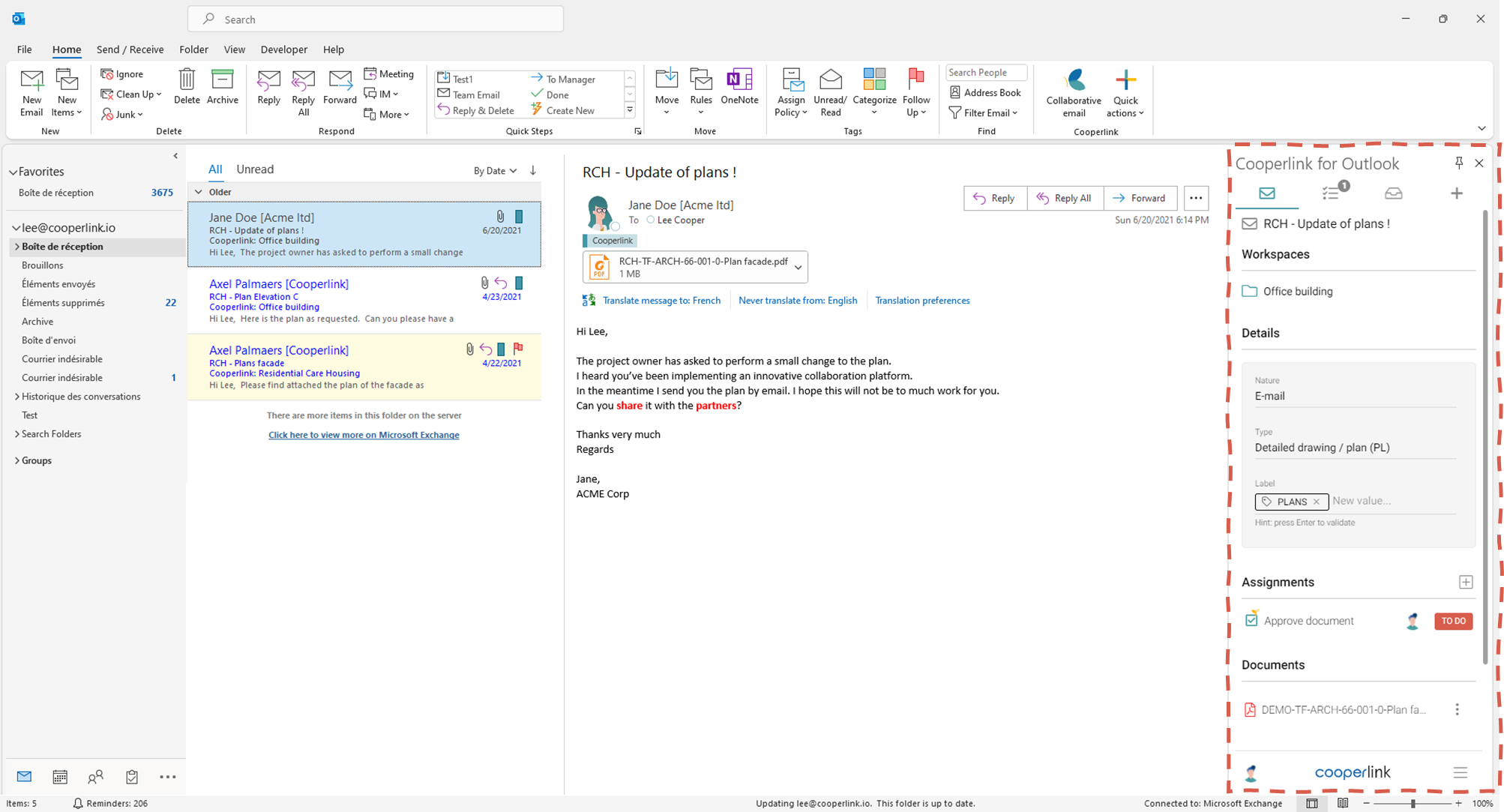 Maps and metadata
Matches can be enriched using metadata [1]. These are fully configurable according to the needs of the project and can be adapted at any time easily by the project manager.
Search, filters, and views
Just like documents, tasks, and workflows, the mapping module has a powerful filtering tool [2].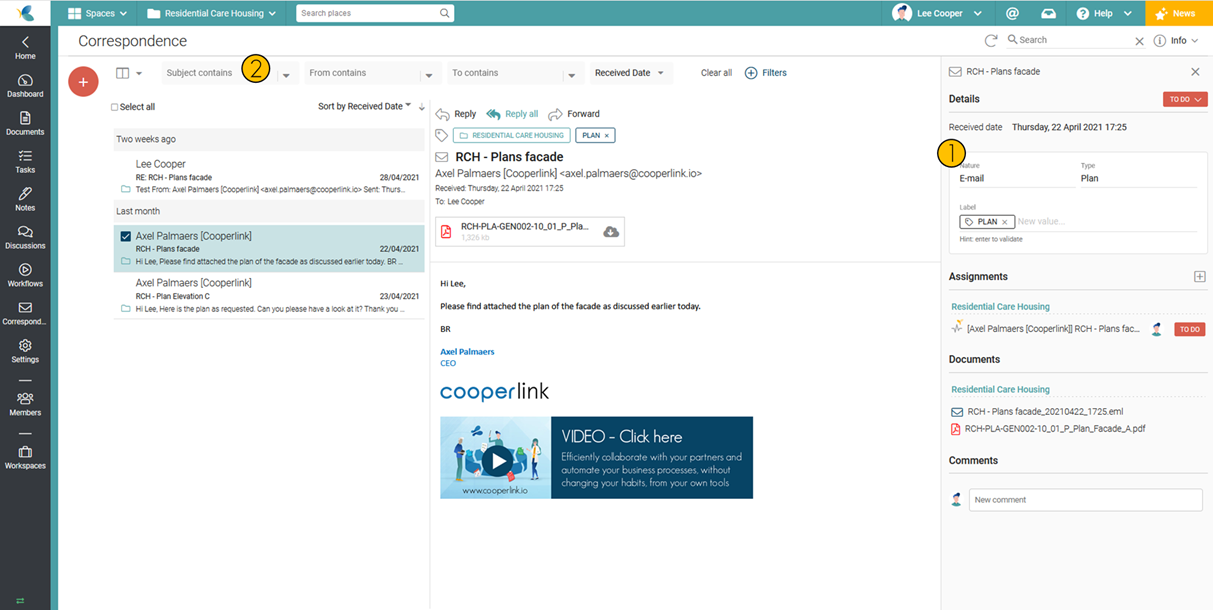 Tickets
Some conversations need to be treated as a single task. This is the case, for example, of a request from a customer. This feature allows the user to convert their emails into a ticket-type task. He will then be able to centrally process the entire exchange with his client from the task. Cooperlink will transmit the information to the customer in the form of an e-mail.
When the user creates a new ticket, the sender receives an automatic email to acknowledge the receipt of his request.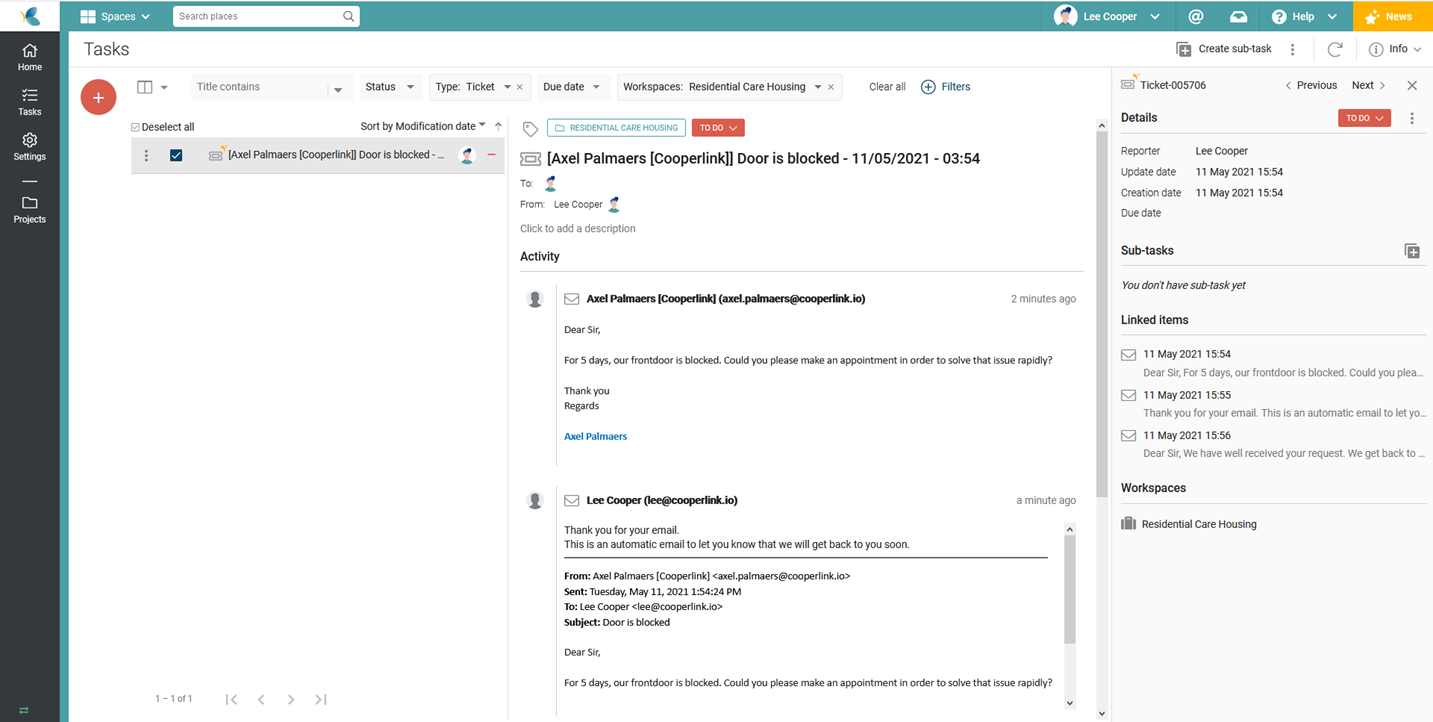 Stamps and automation
Archiving emails on your document management system is tedious and time-consuming. As a result, you forget to do so and lose valuable information.
Applying a stamp to an email means automating its classification on your tools in two mouse clicks: you receive an email, you specify the space to which it refers, you apply the stamp and Cooperlink takes care of:
its archiving in the project (tag to convert an individual email into a collaborative resource)
its classification in the project (labels, metadata, ...)
its export in EML format, and its attachments, in your document management system, directly in the right directory
Later when you search for information, you have access to it directly in your document management system, or in Cooperlink. You will be able to filter the information thanks to the classification you have applied.
The icing on the cake, the first user who takes care of applying a stamp does so for all the recipients of the email. Again, Cooperlink calls on collective intelligence.
You can then delete the email from your inbox. The email is well and truly saved.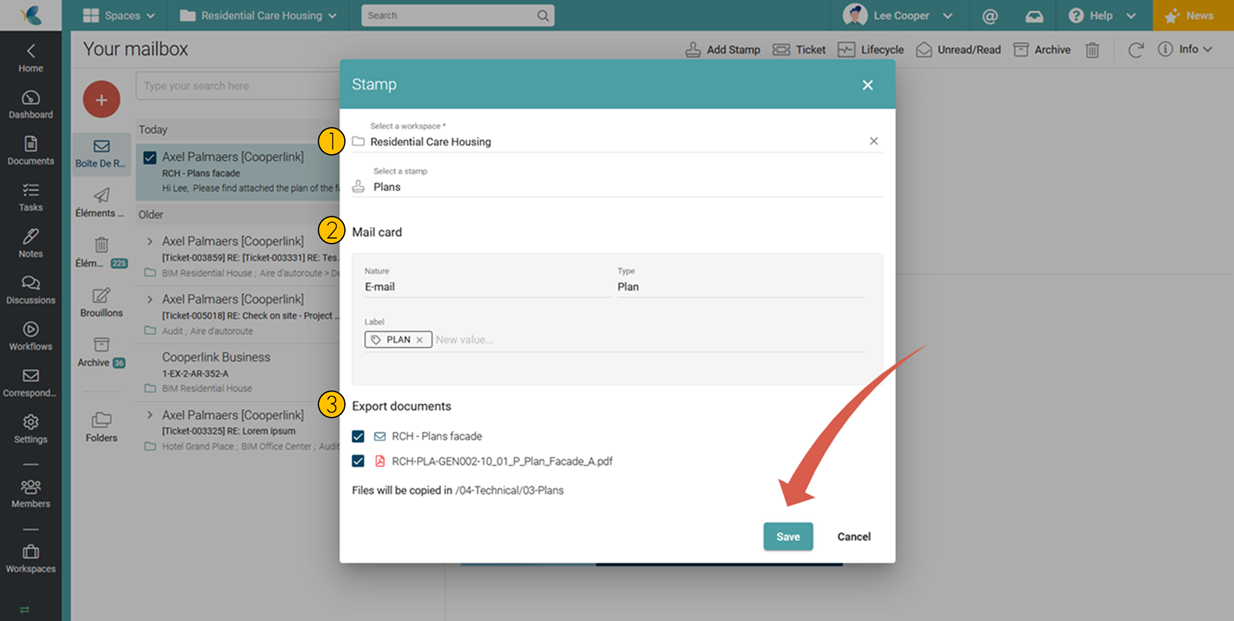 ---
Was this article helpful?
---
What's Next