This article applies to DELIVER BOOST EMPOWER GUEST (free) products
User Experience
Cooperlink's interface has been designed to provide the user with quick access to the most important information. At a glance, you have access to the list of files with their documentary code [1], a series of indicators providing information e.g. on the number of versions, the status of publication, the date of publication, ... [2], and a detail drawer that allows you to access the information of the selected document [3].
Companies that have DELIVER BOOST or EMPOWER products can integrate their internal document management tools. Documents are thus stored directly in their own environment and Cooperlink provides them with a dynamic and enriched view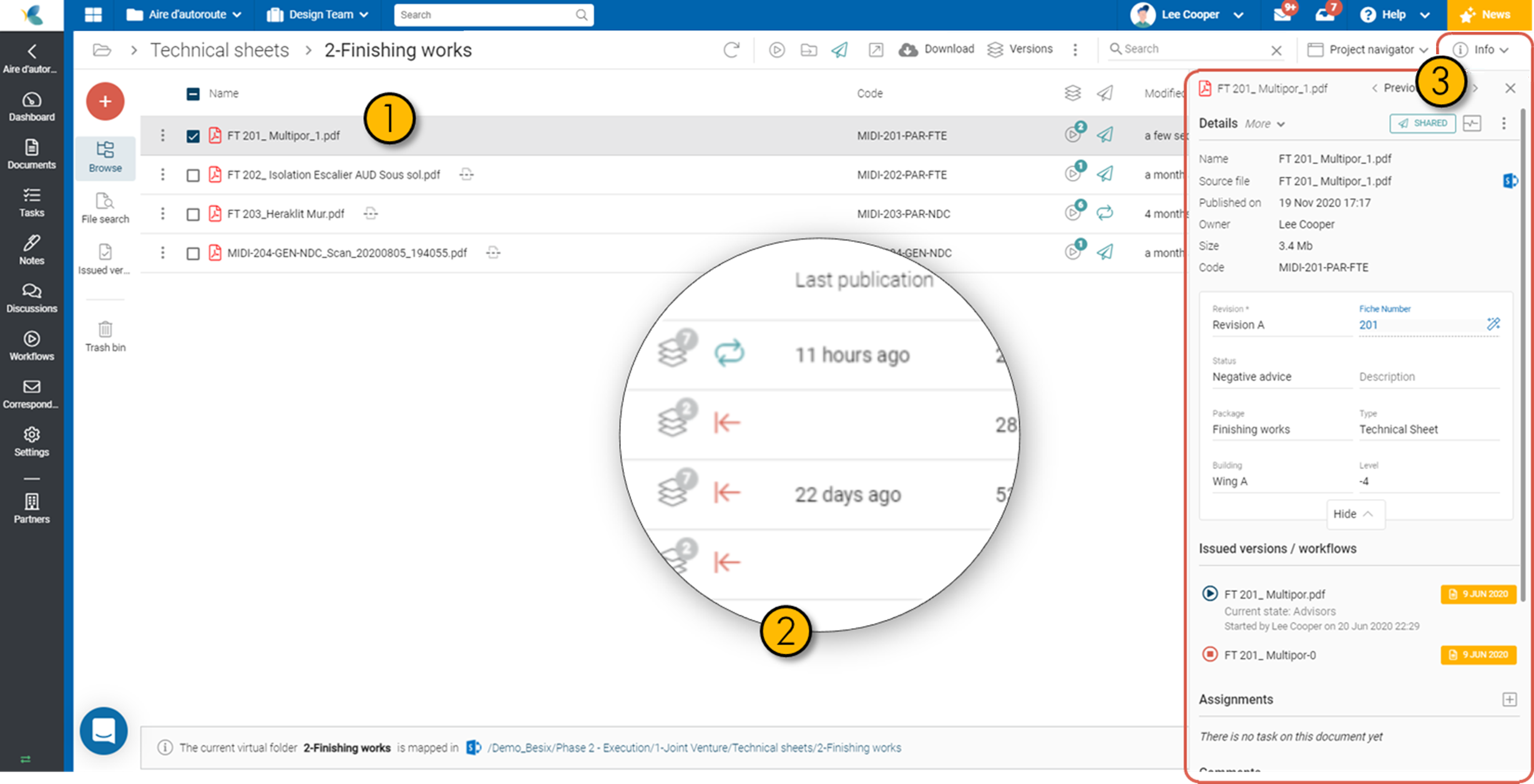 Metadata
Documents can be enriched using metadata gathered through a card [1]. These are fully configurable according to the needs of the project and can be adapted at any time easily by the project manager.

The dilemma between acronyms and ease for the user

Cooperlink manages metadata of type Identifier / Description. This allows for a more intuitive use for partners while allowing project managers to use the acronyms most frequently used in their company.

Examples of Identifier / Description pairs
TF / Technical sheet (submittal)
STAB / Stability

Revisions
File revisions are recorded in the history. A revision number is applied to the document. The revision format is free (e.g.: 0, A, B, C / 1, 2, 3, 4 / P01, P02, ...).

Document code and uniqueness
A documentary code can be defined according to the specific needs of the project. It is built on the basis of metadata identifiers (see above) and automatic numbering can be added to it. The workspace manager can also indicate the uniqueness criterion that applies to the document code. Thus, no two documents can use the same code.
Code examples:
MIDI_BJV_ZZ_DM_C_ZZ_ZZ_104121
ING_FTE_ELE_4404
Document status review
When the document is subject to review/approval (workflow), a status is assigned to it and available in the appropriate column.

Tree view
The tree view of directories allows you to navigate your document structure in a simple and visual way.


Search, filters, and views
Cooperlink has an advanced search tool to filter documents from the room based on the file name, path, code [1] or any metadata assigned to it [2]. The drawer provides access to detailed information for the selected document [3].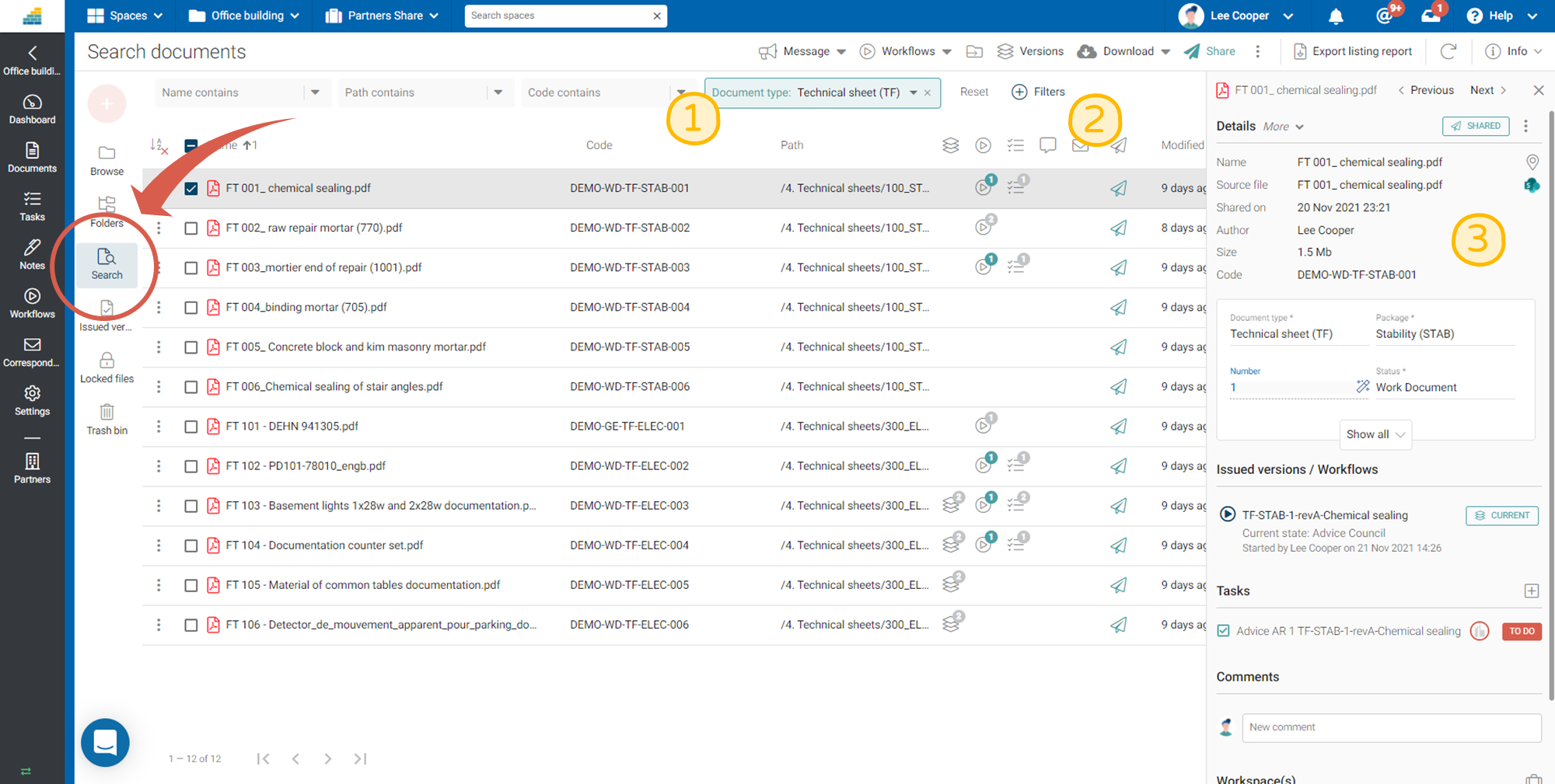 Workspace ownership and access rights
GUEST (free) Only licensees can create a workspace and enforce access rights.
Cooperlink allows the workspace owner to fine-define access rights for their various partners.
Traverse: the right to see and traverse a directory, except for files

Workflow: right to see the versions of documents related to a workflow (approval circuit) in which the company is listed as a contributor. This right allows only certain specific versions of documents to be distributed.

Read: Read-only right on all versions of documents

Writing: right to read and write

Clear: Read, write, and erase right.
The partner is informed of its access rights to the directories in a distinctive way in the application [1]. The absence of indication means the absence of restriction; the partner therefore has all the rights to this directory in this case.

Bulk upload of documents
The upload manager assists you in the bulk upload of files or folders thanks to its concept of "baskets" [1].
By default, Cooperlink automatically detects new file versions based on name. The user can also force Cooperlink to consider a new file as a new version of an existing file [2].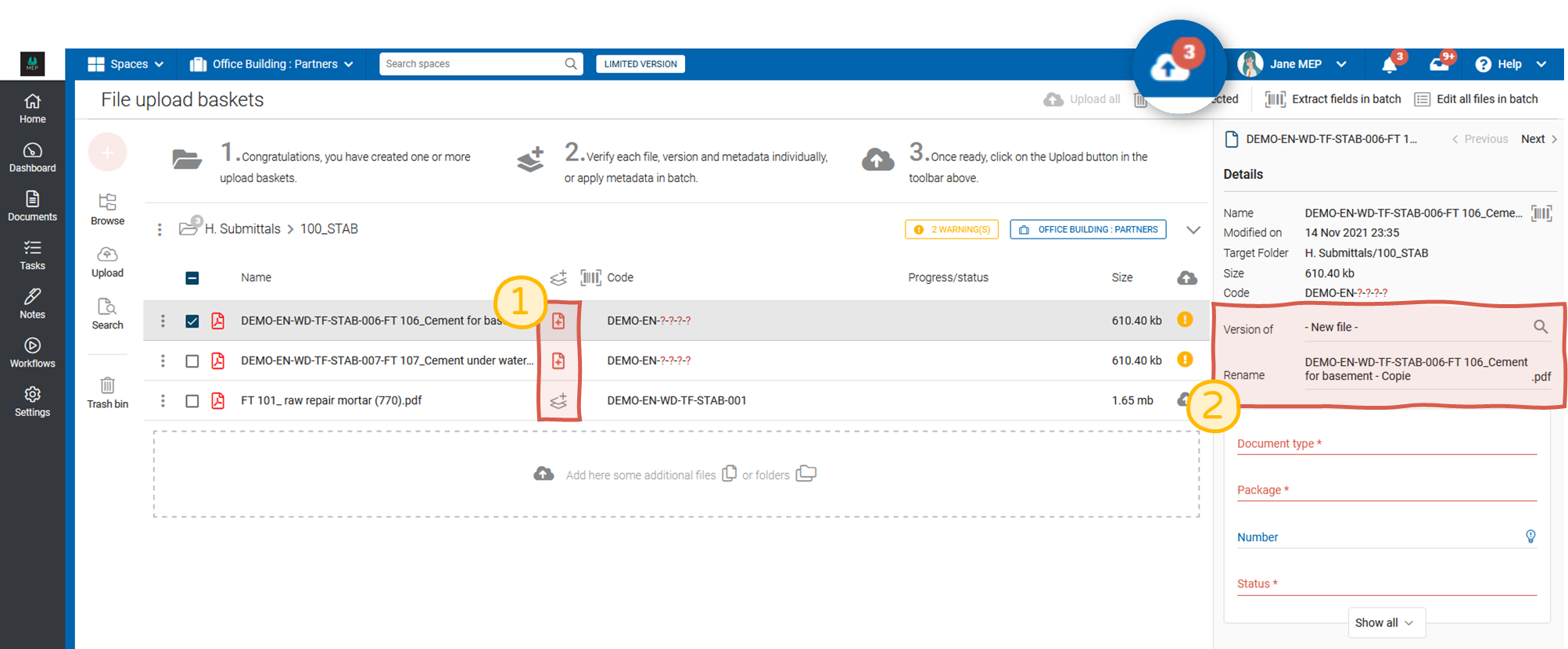 Automatic metadata extraction
The upload manager allows metadata encodings to be processed in batch. In addition, an advanced file name scanning system [1] (barcode analogy), allows, when the document code is applicable, to analyze the file name and automatically encode the corresponding metadata.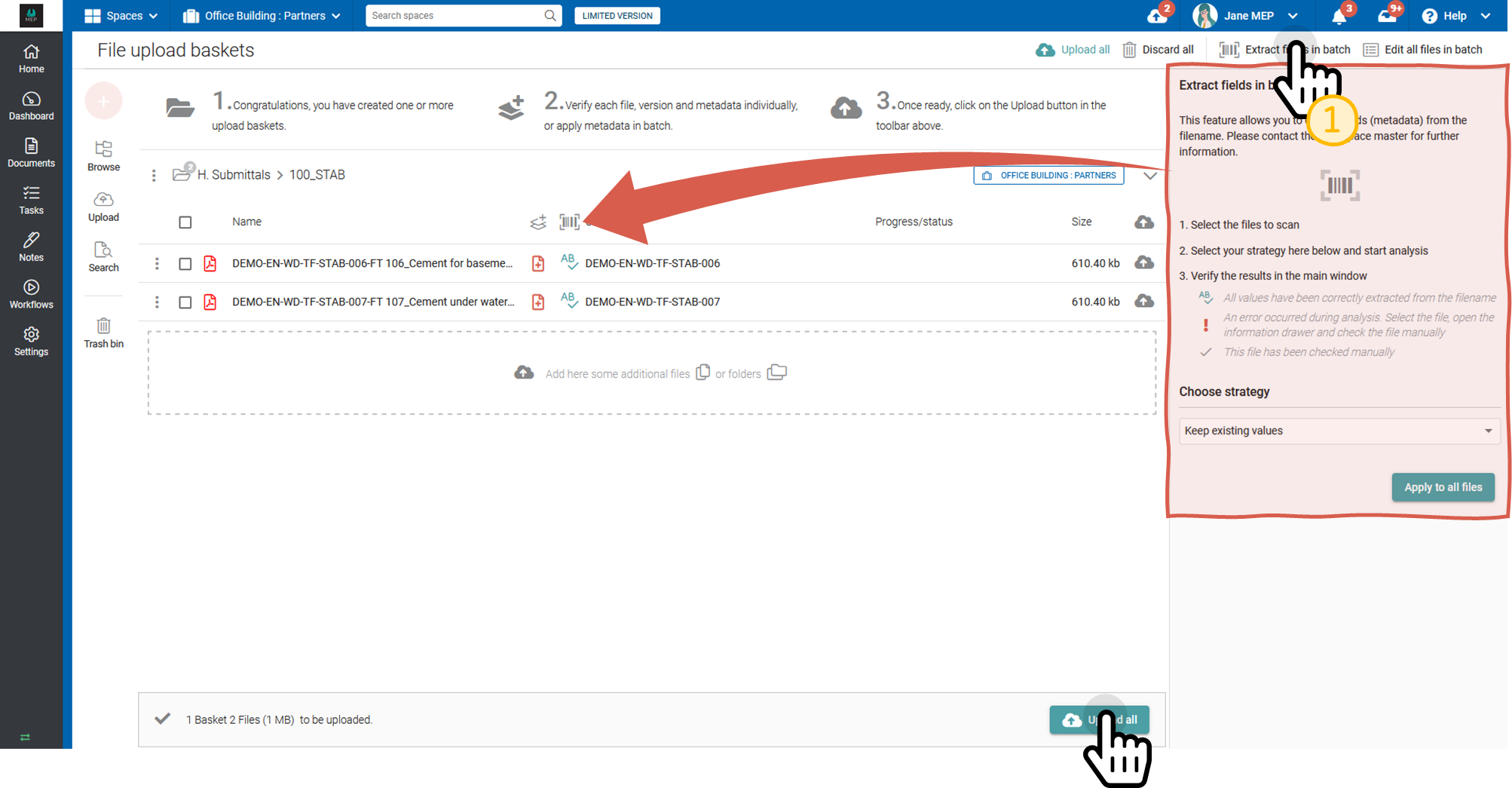 Download with choice of custom file name
To allow project partners to download files in a separate bill of materials, Cooperlink allows you to define file name templates within the workspace.
These file names can contain the original file name, any metadata, document code, and/or version date.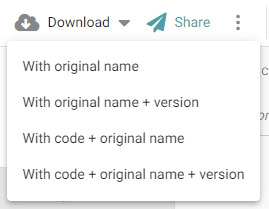 Version history and traceability
As an application specializing in the exchange of information between companies, Cooperlink records each flow of information in the form of a transaction [1]. Each version of a document is therefore saved and Cooperlink informs the user whether it is a received version or a transmitted version [2].
Collaborative functions
The user also benefits from many collaborative functions, including tasks related to documents [1 ]. The document lifecycle that assigns status to a document [2]. These tasks and lifecycles are managed using the task management module
Embedded viewers
Cooperlink has viewers for the most common document formats:
PDF files
Office files (Word, Excel, Powerpoint)
Image files
CAD/BIM1
(1) This viewer requires a separate license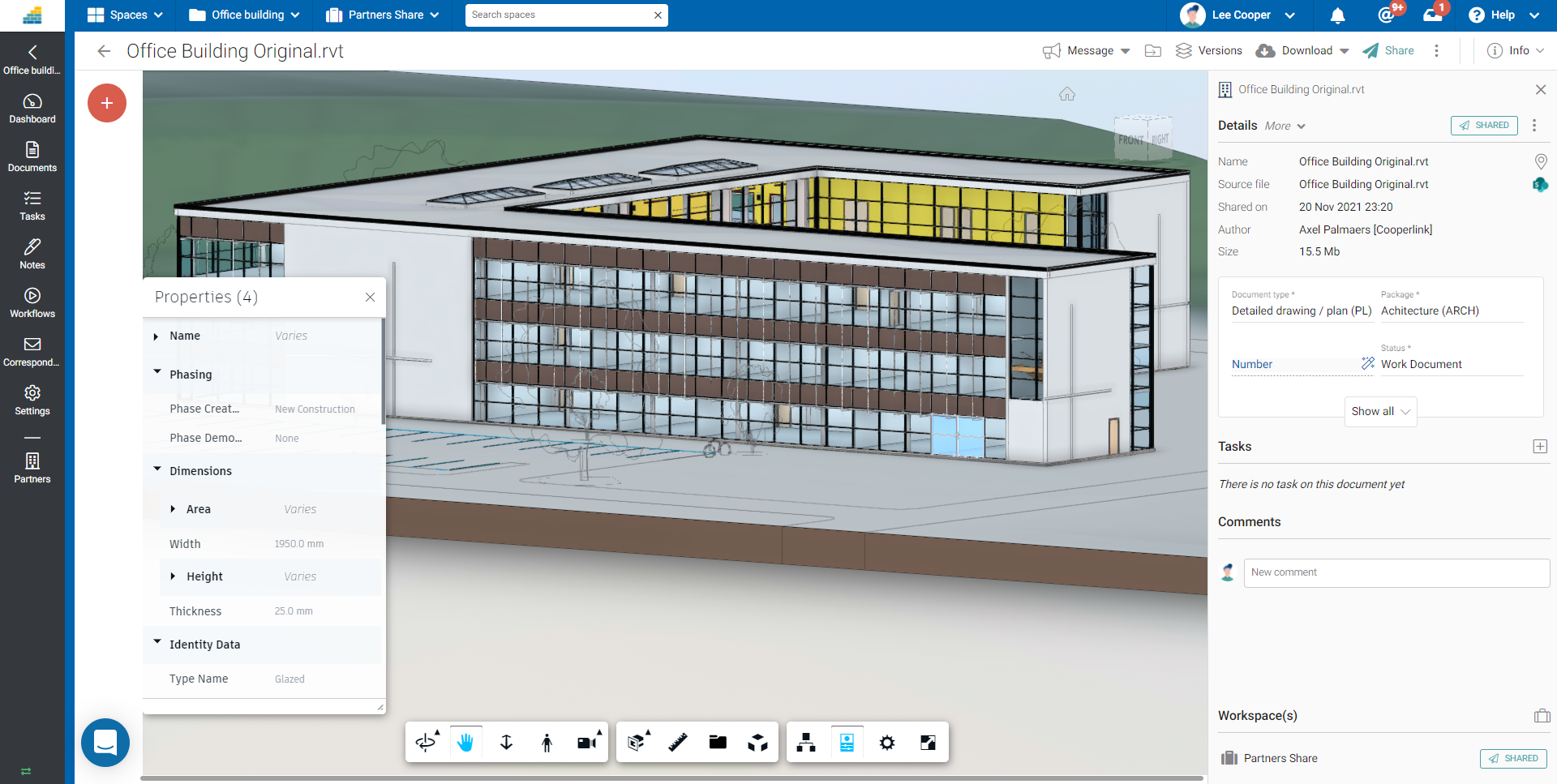 Online file editing and Windows Explorer access
WebDAV protocol
GUEST (free) This feature is not available to free guest partners.
The webdav protocol allows the user to manage documents in their project and workspace spaces via Windows Explorer and open files directly in local applications.

Online Office Editors
Microsoft's online editors allow you to edit your Word, Excel, and Powerpoint1 files. They also allow you to work together on the same office document hosted on your tools.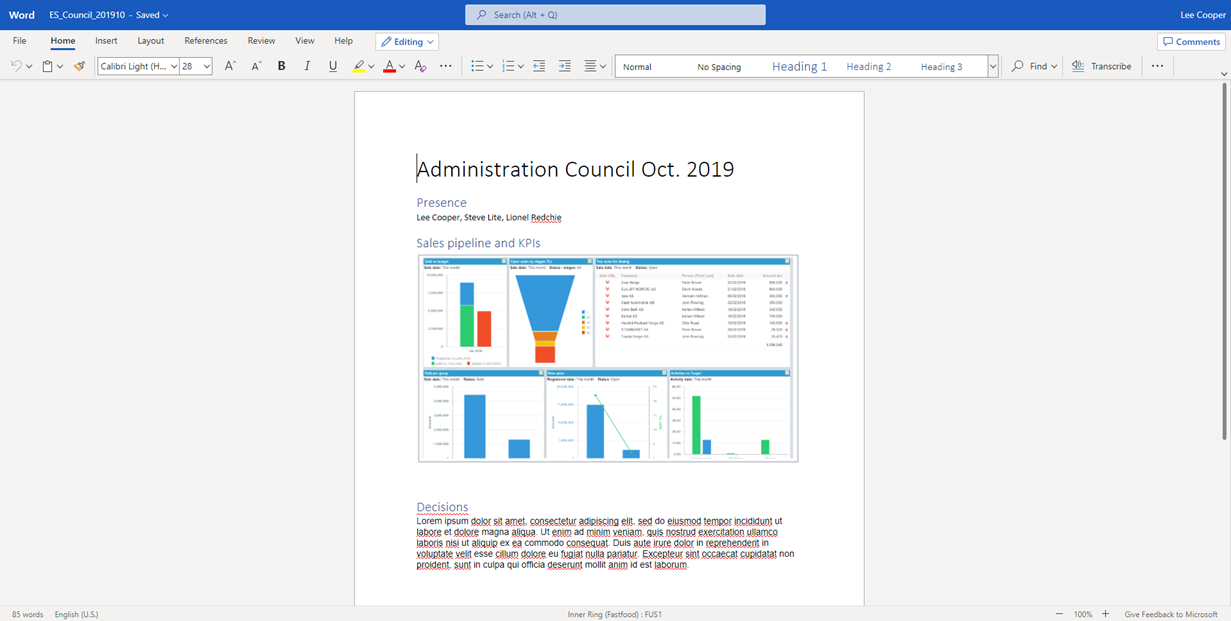 (1) Editing files requires one Office 365 license per user
Custom export (excel listing)
Build your excel file template for exporting the information you are interested in. Use functions, macros, conditional formatting, charts to define your export.
In the app, use the filters to export the desired files. Cooperlink takes care of filling in your excel file in a few seconds. So you always have an up-to-date listing, in the desired format.
Your advantage:
a listing and statistics on hand, effortlessly, always perfectly up to date!

Templates for new documents
GUEST (free) This feature is not available to guest partners.
The folder manager can configure within its spaces a set of document templates for the creation of new standardized documents.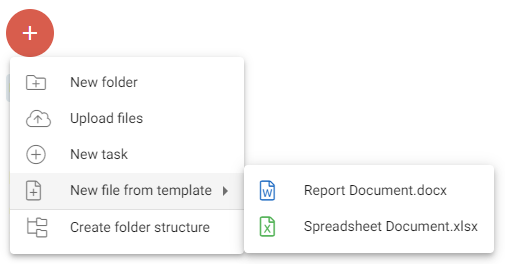 ---
Was this article helpful?
---
What's Next