First connection (onboarding)
---
Share feedback
Thanks for sharing your feedback!
Subject of this article
Congratulations, you have been guest on cooperlink. You have received an email inviting you to create your own account. The procedure differs depending on whether you are:
Prerequisites
This procedure applies to users who have not yet created Cooperlink account or who have not yet completed their onboarding.
HAVE YOU ALREADY CREATED YOUR ACCOUNT?
Common procedure
Invitation Email
You have received an invitation email. This contains a link to create your own secure account. Click the Join button.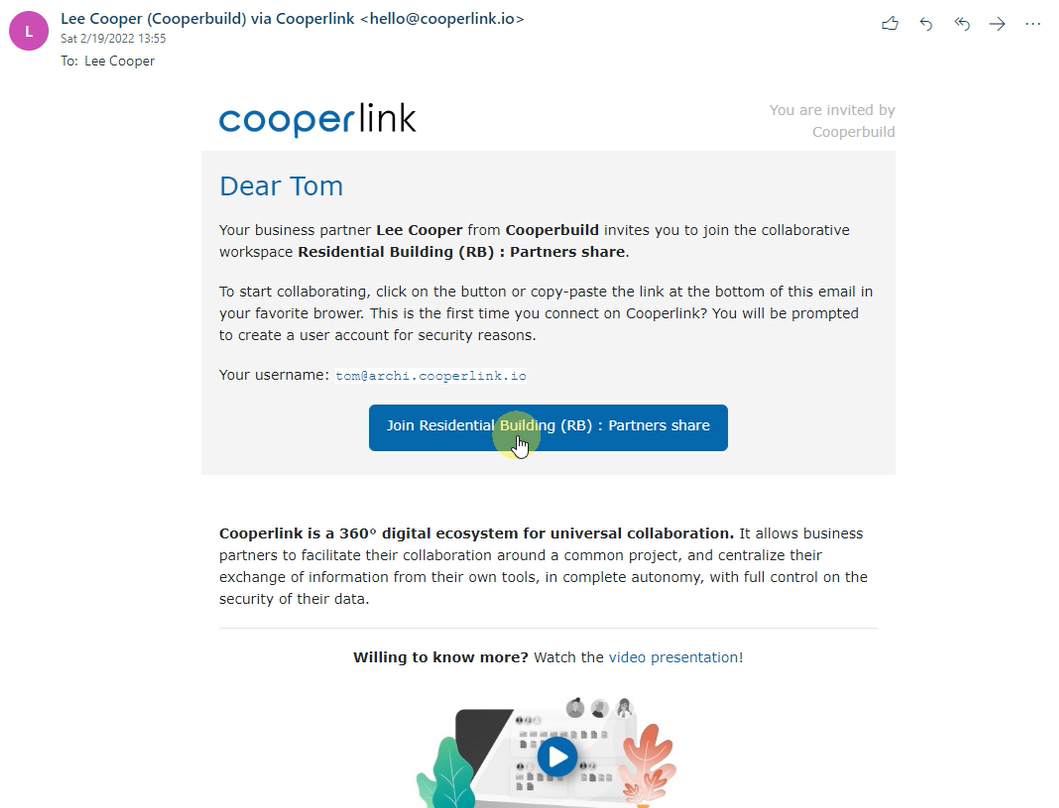 Create an account
Cooperlink invites you to communicate certain information about you in order to serve you better. You must also choose a password. Also write down your username.
MINIMUM PASSWORD REQUIREMENTS
Your password must contain at least 8 characters including 1 uppercase, 1 lowercase and 1 number. We recommend adding a special character to it (optional).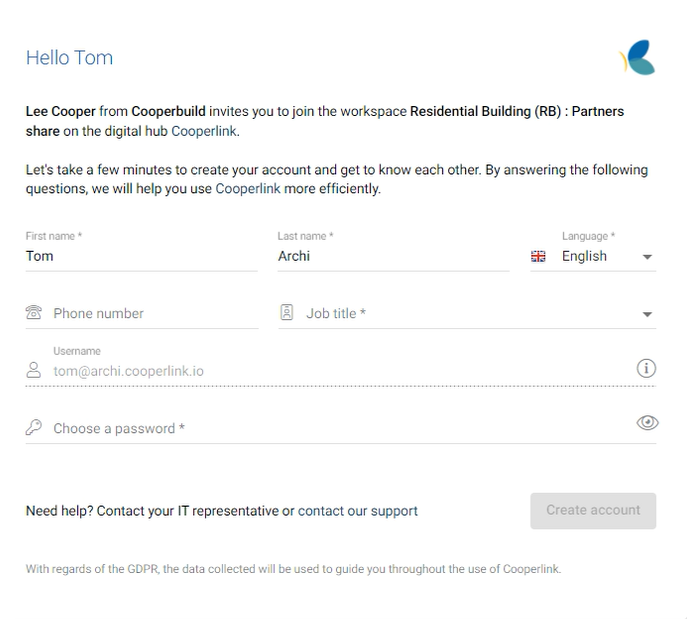 Special procedures
Case 1 - I have been invited by a partner as a guest
In this case, you are invited to respond to a few questions about your business. This allows us to better tailor your user experience.
Case 2 - My company has a Cooperlink license
On the second screen you are prompted to
choose your avatar
connect to your company's tools
Select a nice picture of yourself and drop it as your avatar. This will make it easier for your colleagues to recognize you during the collaboration.
Select the tools you use in your business and click to login.
ADVICE
Contact your company's IT referent to find out exactly what information you need. use. Here is some information to help you but it depends on the configuration within your company.
For Microsoft Office 365 cloud applications (Sharepoint, Exchange), enter your O365 ID (usually your email address) and follow the steps
For local file servers, enter the username you use to log in to your computer in the following form:
- Username: DOMAIN\username
- Password: your network password


ATTENTION, the identifiers used here are not those to connect to you; the Cooperlink app! These are the credentials to connect to the tools referenced by these connectors (called libraries in Cooperlink)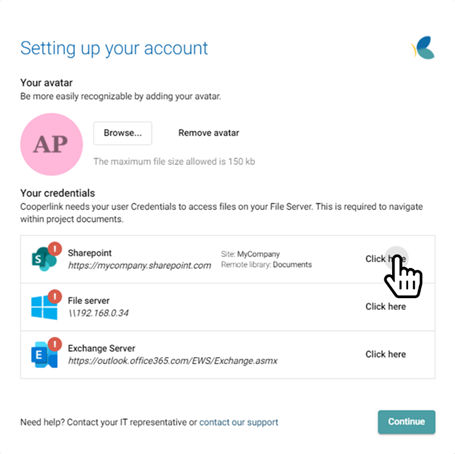 ---
Was this article helpful?
---
What's Next