Share feedback
Thanks for sharing your feedback!
Through its motto Building Better Together, Cooperlink underlines the ambition to enable construction stakeholders to collaborate on their joint projects without changing their habits.
Cooperlink is an innovative B2B digital platform developed for the AEC (Architecture, Engineering, Construction) sector. It brings together the advantages of a collaborative platform, and the power of middleware (middleware1).
Thanks to its no-code platform for universal collaboration, Cooperlink brings together companies and their tools at a glance to automate their business processes and information exchanges. Cooperlink facilitates the coordination of construction projects, the management of data sheets, the automation of as-built files and the management of emails thanks to collective intelligence. Cooperlink also offers a ready-to-use solution for business associations.
What makes Cooperlink special is its ability to integrate the company's information systems, but also to give its partners the opportunity to do the same, and thus benefit from a real universal 360° collaboration.
(1) In computer science, middleware is third-party software that allows the linking of several computer applications. Middleware is typically used as a glue to connect disparate applications.
Description of issues withing multi-partner collaboration in the AEC industry
The proliferation of digital channels confronts companies with real problems in terms of productivity, responsibility and security.
In addition to the fact that each company is subject on the one hand to a diversity of business tools, each partner of a complex project encourages on the other hand the use of its own tools. And all of these companies have to manage a growing volume of information sources and tools, which involves multiple encodings, a manual workload, and a lack of a centralized view. This leads to misinformed decisions, processing errors, etc. The consequence is a real lack of productivity, time and money unnecessarily wasted.
Responsibility and data security is also an issue for independent companies that must work on a common project. They have made individual choices in terms of security policy. They must guarantee the traceability of information exchanges. And they must preserve their autonomy in terms of data ownership.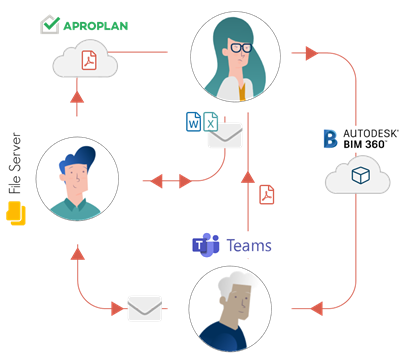 What is Cooperlink?
The cloud platforms available on the market today do not meet these challenges! Neither does email. That's why Cooperlink has developed an innovative next-generation B2B communication platform. Its goal? Put the company's tool back at the heart of their digital strategy to constitute THE genuine and authentic single source of data. Its values? Respect the autonomy of each company, guarantee their ownership of data and comply with their individual security policy, while ensuring effective, simple and structured management of their processes.
The concept of a common virtual data network (hub) developed by Cooperlink allows each company that wishes to integrate its own tools and automate its processes in a vision of universal 360° digital collaboration
Cooperlink doesn't stop there. It also offers an intuitive application and a set of configurable features to simplify and automate the daily tasks of employees in the common project, as well as to facilitate the supervision work of project managers.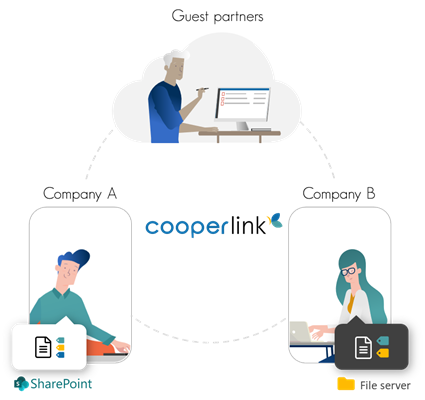 ---
Was this article helpful?
---
What's Next