Share feedback
Thanks for sharing your feedback!
This article applies to BOOST EMPOWER licenses
Purpose of the article
Once the Cooperlink plugin is available in your Outlook email client, it is necessary to perform some preliminary operations to make it available for use.
Prerequisite
This feature requires that the Outlook Add-in has been previously deployed by your site administrator (see Déployer le plugin outlook à partir du centre d'administration Office 365) or configurer le complément Outlook yourself if you have the appropriate rights. Please contact your administrator if in doubt.
Enable cooperlink desktop add-in
Once the plugin is available in Outlook,
select an email
click the Collaborative Email icon on the ribbon to open the add-in
then specify the URL of your Cooperlink tenant (contact your site administrator to obtain it) and validate.
pin the add-in
TIP: PIN YOUR COMPONENT
Click the icon to pin the add-in. It will remain accessible all the time. Otherwise, it will close when you select a new email.
THE COMPLEMENT IS GRAYED OUT OR IT DOES NOT APPEAR?
If it is grayed out, you must select a valid email.
If it's not visible, there may not be enough room on your screen. The button is probably hidden in the grouping button (3 dots) at the top right

You could not solve your problem, please contact our support.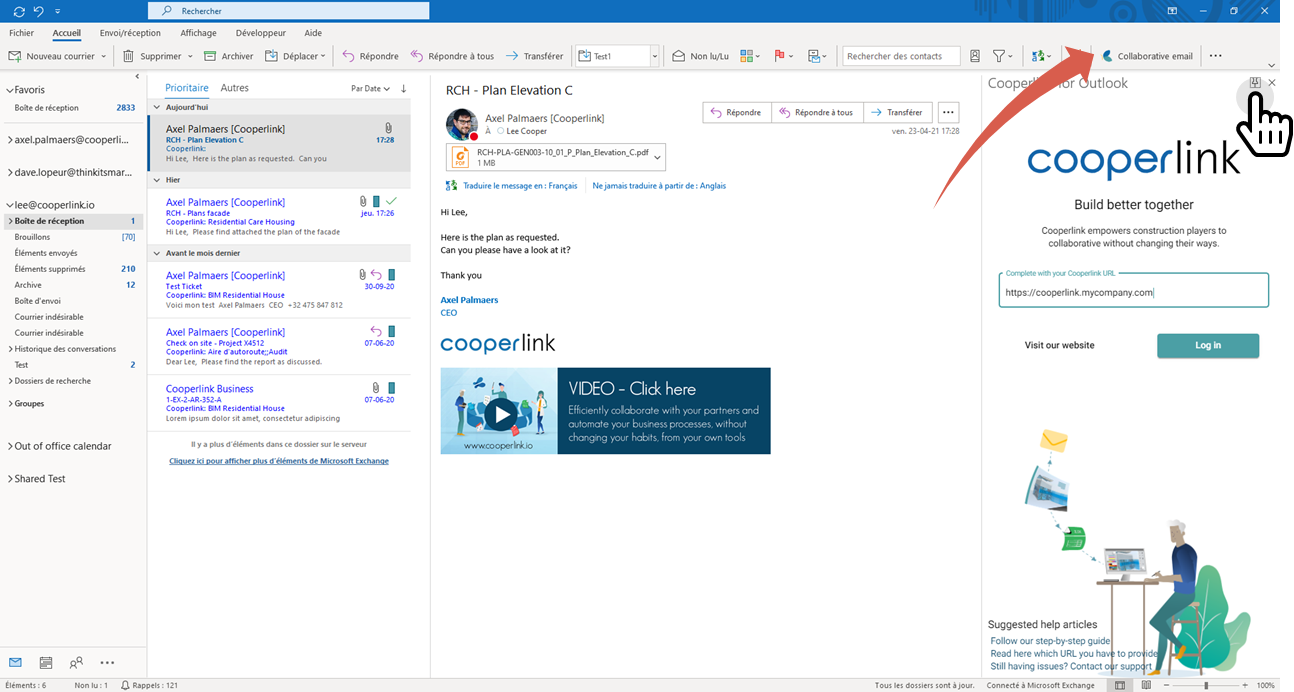 Sign in
Once the configuration is successful, the Cooperlink login window is displayed. Enter your username and password in Cooperlink.
That's it, you're ready!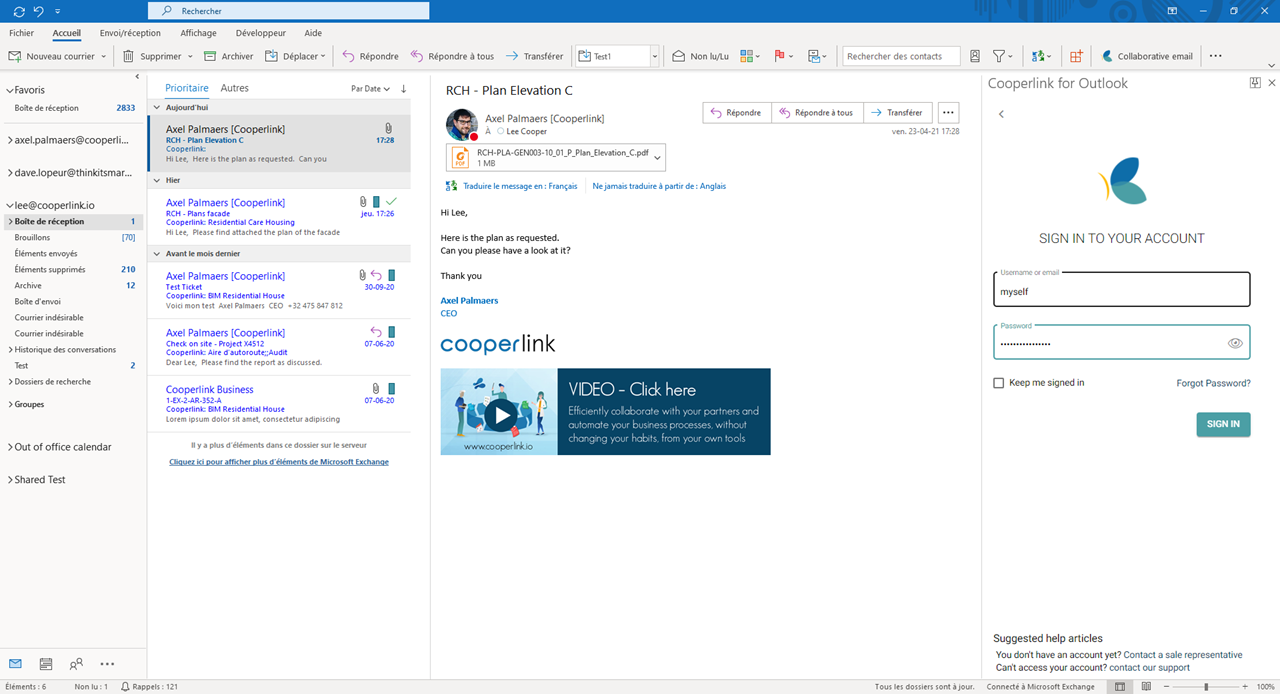 Add a Cooperlink category
To better identify the emails saved on Cooperlink, they are assigned a category. To view it, look for the Rank button on the ribbon. Select it and click All Categories.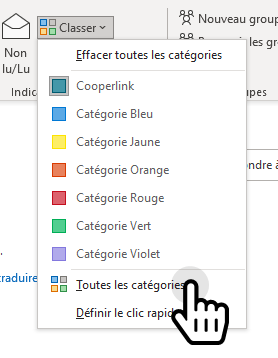 In the dialog window, create a new Category. Name the Cooperlink and give it the color of your choice.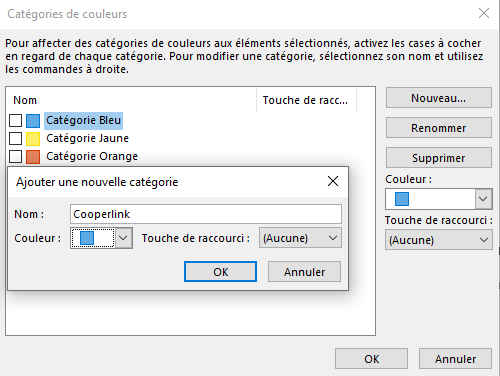 After you complete these steps, go to Utiliser le plugin Outlook for more information about using this add-in.
Enable outlook add-in web version
Once the procedure is done for the desktop version of Outlook, the Cooperlink plugin is directly accessible in the web version of your email client. To do this, select an email and click on the menu. Then choose the Cooperlink add-in.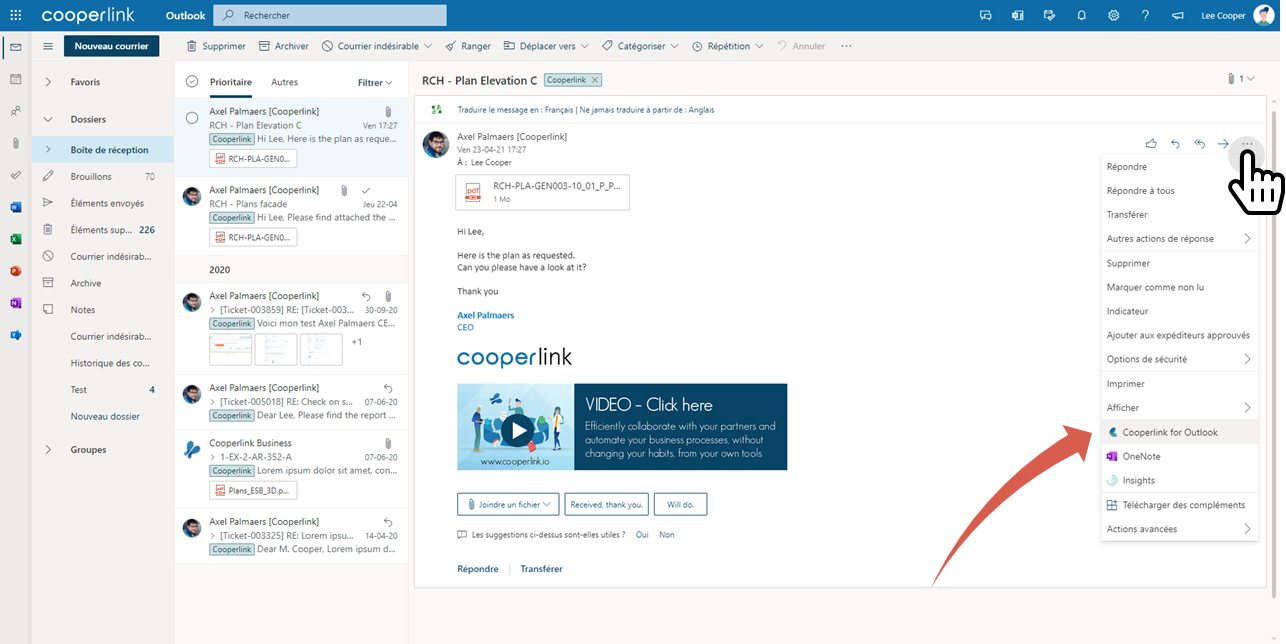 As with the desktop application, then pin the add-in.

After you do this, go to Utiliser le plugin Outlook for more information about using this add-in.
---
Was this article helpful?
---
What's Next